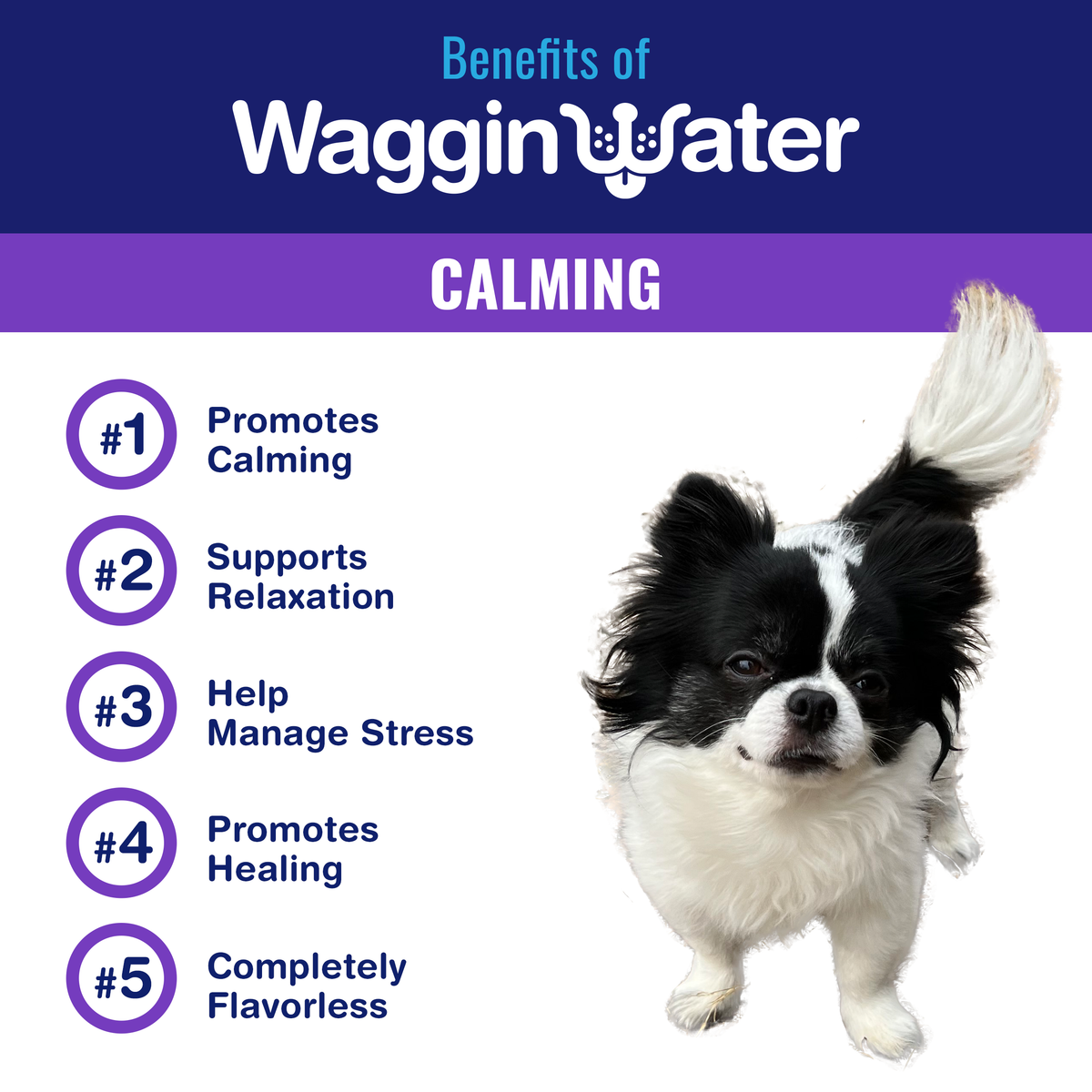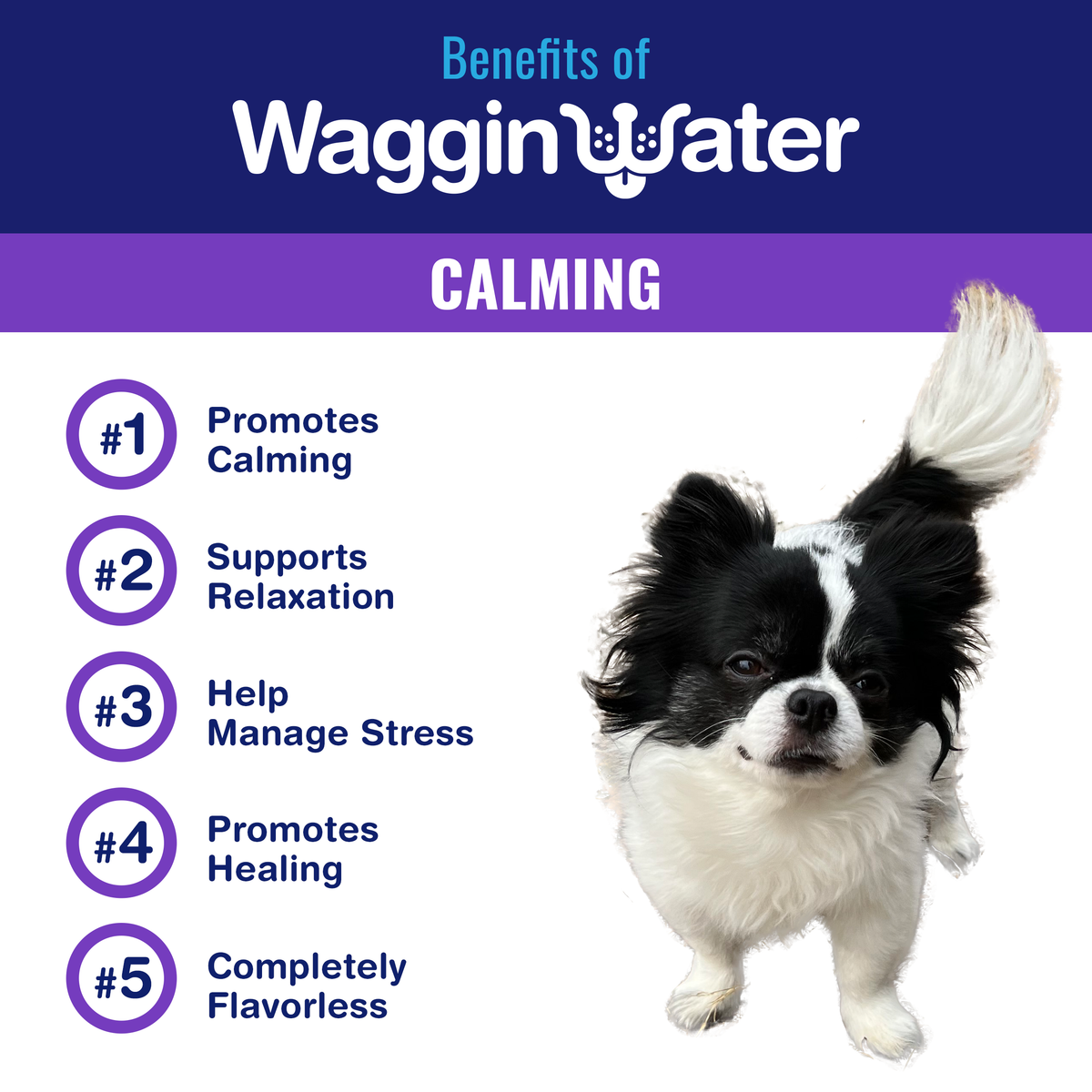 100% money back guaranteed if your Pet doesn't drink Waggin Water CALMING. 10/10 Pets approve!
Why Waggin Water CALMING - 1L (4-pack)?
Promotes Calming

Supports Relaxation

Help Manage Stress
Help Manage Stress

Promotes Healing

100% Flavorless
Waggin Water CALMING is a flavorless calming water blend for dogs made with simple ingredients. Give your dog the calm they need during separation, storms, grooming, or travel with Waggin Water calming liquid dog supplements. Helps promote normal nervous system function and calmness.
Purified water, Melatonin, Suntheanine, L-Tryptophan
What is Melatonin?
Melatonin is a naturally occurring hormone released in our brains in the evening to signal to our body that it's time for sleep. Melatonin helps reduce feelings of anxiety and calms the body.
Is Melatonin Safe for Dogs?
According to the American Society for the Prevention of Cruelty to Animals (ASPCA), melatonin is a safe supplement to give your dog. Melatonin has little risk for harmful side effects. The most common side effect is lethargy upon waking the next morning. However, please ensure that you are purchasing melatonin free of added fillers or coatings that could be harmful, or the sweetener xylitol, which can hurt dogs.
What is L-Tryptophan?
L Tryptophan, also known as L-Tryptophan, is an amino acid that helps both dogs and humans with brain functions. However, neither human nor animal bodies can create this amino acid on their own, so it must be gained through certain foods and supplements. For that reason, it's considered an "essential" amino acid.
Why is L-Tryptophan good for dogs?
This amino acid is crucial for dogs because it can make proteins and brain-signaling chemicals. Once inside the body, it can be converted to serotonin to control a dog's mood and sleep. It's often given to dogs and humans to help reduce anxiety.
What is Suntheanine?
Suntheanine is a component of green tea discovered in 1949. It is an amino acid that can promote relaxation without drowsiness. It is most commonly found in tea leaves, black or green, but can also be found in fungal species. L-Theanine can be purchased as a dietary supplement in pill form from your local drugstore. It also is an ingredient you can find in certain pet treats.
Why is Suntheanine good for dogs?
Suntheanine offers certain benefits for dogs such as reducing anxiety, lowering blood pressure, improving moods, and improving cognition. Once the Suntheanine is introduced into the blood system it crosses the blood-brain barrier intact. This means that the Suntheanine eventually reaches the brain where it can induce direct pharmacological effects (decrease anxiety). This is the process of how Suntheanine induces anti-anxiety effects in the brain for dogs.
Anxiety in dogs is one of the most common problems for pet owners to deal with. Many dog owners prefer using natural anti-anxiety treatments instead of using unnatural, expensive, and risky prescriptions. This makes Suntheanine an ideal alternative to powerful drugs like Xanax, Valium, or CBD, which are some of the common prescriptions prescribed by veterinarians for anxiety in dogs.
How should I administer Waggin Water CALMING?
Waggin Water is best administered 1-2 hours before the desired event that you are seeking to calm your dog for. This allows the ingredients to penetrate their system and begin having their effect in preparation for the potential anxious situation ahead.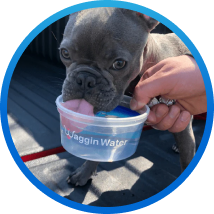 "The Waggin Water Hip & Joint has been great for Frank. He still eats Collagen chews on occasion but I love that I can give him Collagen through his water bowl now."
Frank's Mom - Miami, FL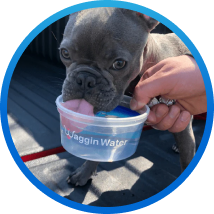 "The Waggin Water Hip & Joint has been great for Frank. He still eats Collagen chews on occasion but I love that I can give him Collagen through his water bowl now."
Frank's Mom - Miami, FL

Don't worry our emails aren't annoying and you'll get cool stuff for your dog